yield: 4 Servings
|
Prep Time: 25 minutes
| Cook time: 7 Minutes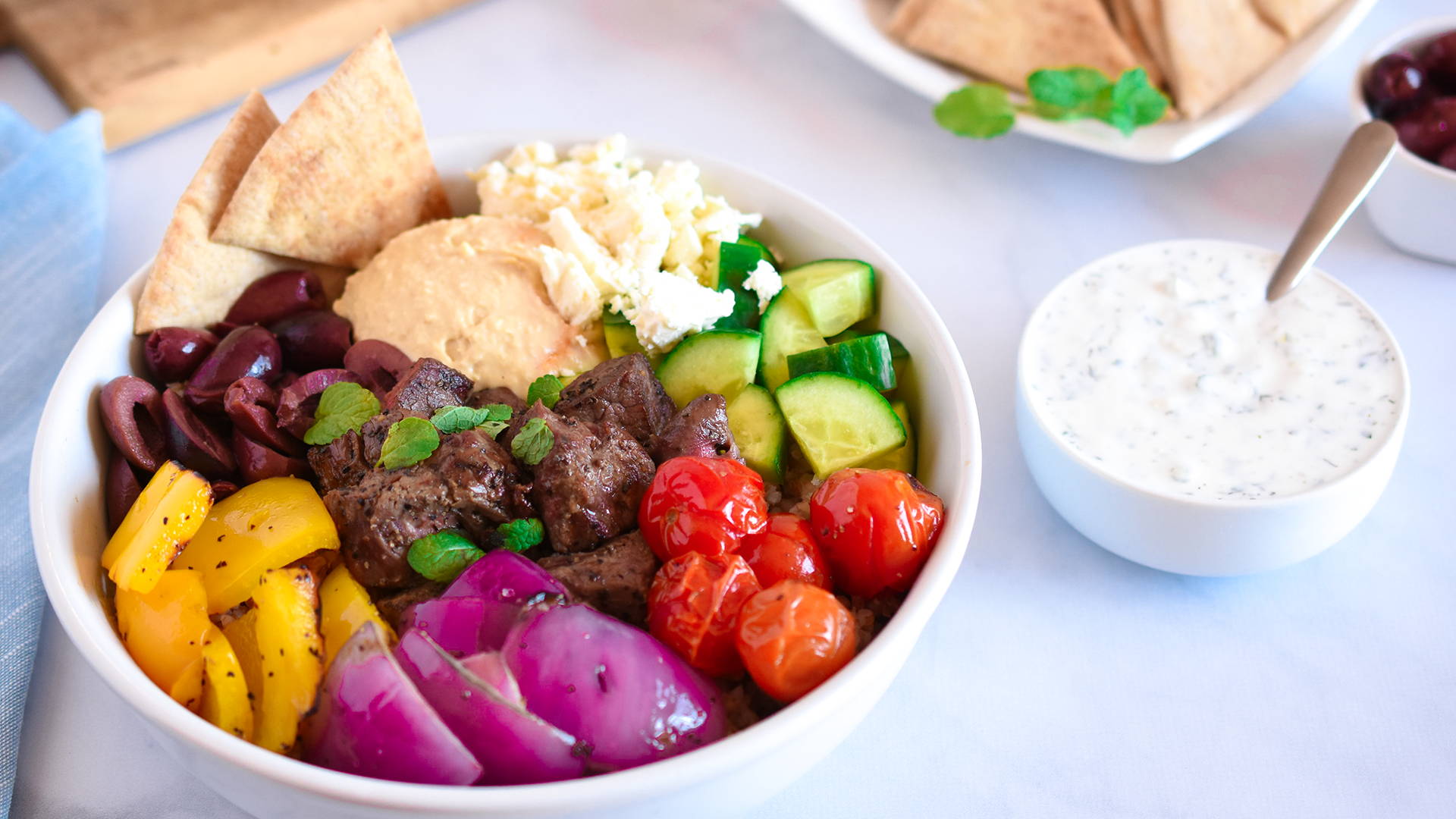 Bowl
4 – 3 oz. Filet Medallions

1 pint cherry tomatoes

1 red onion, cut off ends,
quarter then cut each quarter in half

1 yellow bell pepper, 1-inch dice

1 tsp. coarse salt

1 tsp. black pepper

2 Tbsp. olive oil

16-20 kalamata olives, halved

½ English cucumber, quartered

4 oz. feta cheese, crumbled

9 oz. container roasted garlic hummus
2 sprigs fresh mint leaves

4 pita rounds, warmed and cut into triangles

1 C. whole grain red bulgur
Sauce
1 C. plain, Greek yogurt

1 tsp. fresh lemon juice

1 clove garlic, minced

½ tsp. fresh oregano, chopped

½ tsp. fresh dill, chopped

½ tsp. coarse salt

2 Tbsp. fresh mint, chopped
---
Directions
Prepare the sauce first.

In a bowl, whisk together all the sauce ingredients and refrigerate until ready to use. Best if made a day in advance to allow the flavors to blend.

Preheat grill to medium heat.

Cut filet medallions into 6 pieces each and bring to room temperature.

Season with ½ tsp. salt and ½ tsp. pepper.

In a bowl, toss the tomatoes, onion and bell pepper with olive oil, and remaining salt and pepper.

Skewer the filet pieces with the tomatoes, onion and pepper.

Oil grill grates then add the kabobs.

Cook, covered, turning occasionally until the filet is cooked to your desired level of doneness; about 7 minutes for medium.

Remove filet and vegetables from the skewers.

While kabobs are cooking, prepare the bulgar according to package directions.
To Assemble
Divide the bulgar among four bowls.

Top each with filet, tomatoes, onion, peppers, olives, cucumber, feta and hummus.

Drizzle with sauce and serve with warmed pita triangles.