Ribeye With Grilled PEaches

Yield: 2 servings | Prep Time: 30 minutes + Marinating | Cook Time: 8 minutes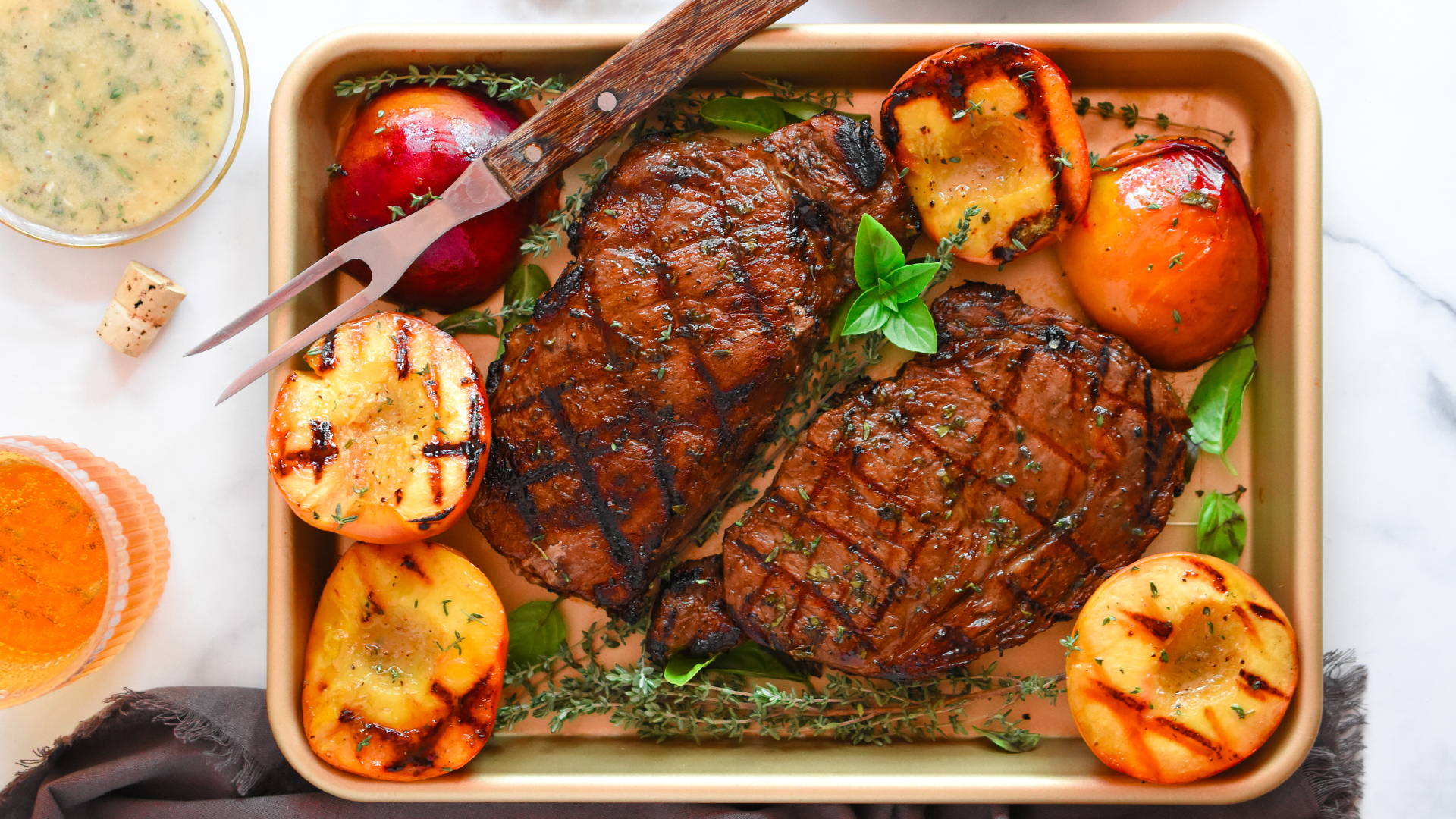 Ingredients:
Marinade:
¼ C. olive oil

¼ C. white balsamic vinegar

2 Tbsp. fresh, chopped basil

2 tsp. fresh, chopped thyme

½ tsp. coarse salt

¼ tsp. black pepper
Honey Butter for Peaches:
2 Tbsp. honey

2 Tbsp. unsalted butter, softened

½ tsp. fresh, chopped thyme

⅛ tsp. black pepper

DIRECTIONS
Prepare marinade by whisking together the olive oil, vinegar, basil, thyme, salt and pepper.
Place steaks in a resealable bag or a container and pour marinade over steaks. Allow to marinate for 4 hours or overnight. Remove from the refrigerator an hour before grilling.
Prepare honey butter by stirring together the honey, butter, thyme and pepper until smooth. If not using it within a couple of hours, cover and refrigerate. Bring to room temperature before use.
Preheat grill on high for 15 minutes. Once preheated, clean the grates and oil them with a high temperature oil.
Brush the cut sides of the peaches with olive oil.
Place them cut side down on the grill and brush the other side with honey butter. Grill for 3 minutes.
Flip and brush the cut side of the peaches with the honey butter. Grill an additional 3 minutes. Remove from the grill when slightly softened and grill marked. Remove from grill and set aside (or prepare simultaneously with the steaks).
Remove steaks from the marinade and pat them dry with a paper towel. Place the steaks on the hot grill and sear one side for 2 minutes.
Flip steaks over and sear the second side for 2 minutes. Reduce heat and continue to cook, flipping every 2 minutes until the steaks have reached 5 degrees shy of your desired finished temperature.
Allow steaks to rest for 10 minutes before serving.
Serve with grilled peaches.