Yield: 4 servings | Prep Time: 30 minutes | Cook Time: 15 minutes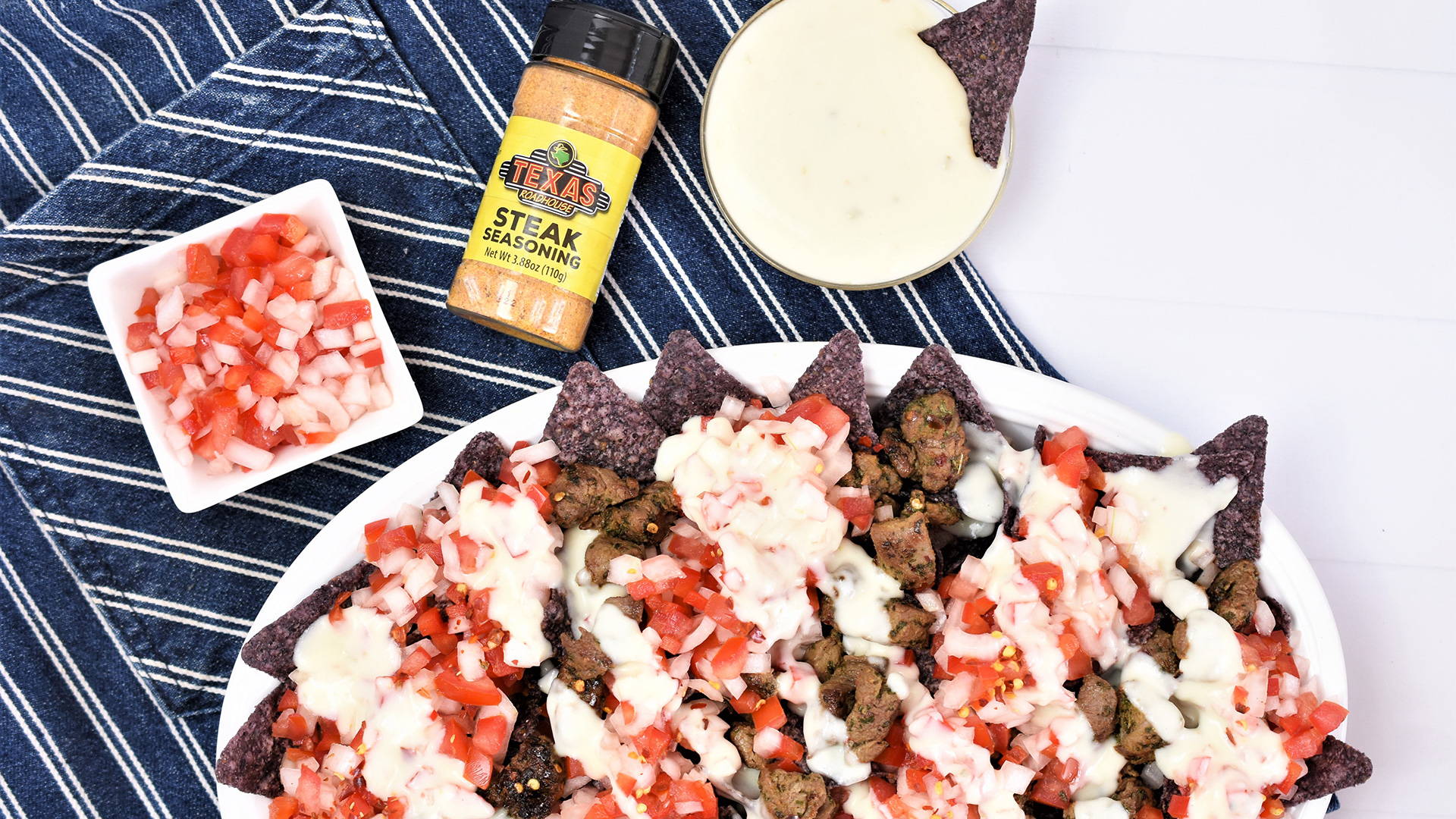 PICO DE GALLO:
1 med. white onion, finely diced

1 sm. red bell pepper, finely diced

1 sm. cayenne pepper, seeded and finely diced

4 lg. tomatoes, seeded and small diced; well drained

¼ C. fresh lime juice

½ tsp. salt

½ tsp. red pepper flakes

CHEESE SAUCE:
2 Tbsp. unsalted butter, cut into pieces

2 Tbsp. all-purpose flour

1 ¼ C. milk

1 ½ C. Monterey jack cheese, shredded

½ C. pepper jack cheese, shredded

¼ tsp. garlic salt

FILET TIPS & CHIPS:
1 – 8 oz. package Filet Tips, thawed

2 tsp. Texas Roadhouse™ Seasoning

½ tsp. red pepper flakes

1 ½ tsp. dried cilantro




(or 1 Tbsp. fresh, minced)

1 Tbsp. avocado oil (or other high temperature oil)

1 bag blue corn tortilla chips
---
DIRECTIONS
To prepare Pico de Gallo -
In a large bowl, combine the onion, bell pepper and cayenne pepper.

Whisk the salt into the lime juice and pour over onion mixture; toss to combine.

Allow mixture to marinate at room temperature for 15 minutes.

Meanwhile, put the diced tomatoes in a colander and allow to drain.

Stir in the tomatoes.

Serve immediately or keep refrigerated until ready to use.
To prepare Filet Tips -
Pat filet tips dry and cut any large pieces into bite sized pieces; set aside.

In a small bowl, mix the seasoning, red pepper flakes and cilantro.

Add tips to the bowl and toss to coat.

Allow tips to come to room temperature (about 20-30 minutes).

Heat oil in a large skillet then add the tips.

Cook for 3-5 minutes, turning frequently, or until desired doneness.
To prepare Cheese Sauce -
In a large saucepan, melt the butter over medium heat.

Add the flour and whisk constantly for about 45 seconds to 1 minute or until the flour no longer smells "raw."

Add the milk, a little at a time, whisking constantly, until all the flour is blended into the milk.

Add the cheeses and salt and whisk until melted.

Serve immediately.

If you don't use it immediately, you may need to whisk in a little hot milk to loosen the sauce.

Keep any unused sauce in the refrigerator.
Assembly -
Place the chips on a serving platter.

Spoon the pico de gallo onto the chips in rows.

Spoon on the filet tips in rows between the pico de gallo.

Drizzle with cheese and enjoy!
Pro Tip: Shredding block cheese melts better than using pre-shredded cheese.