NY Strip
with Red Wine sauce


yield: 2-4 Servings
|
Prep Time: 10 minutes
| Cook time: 20 Minutes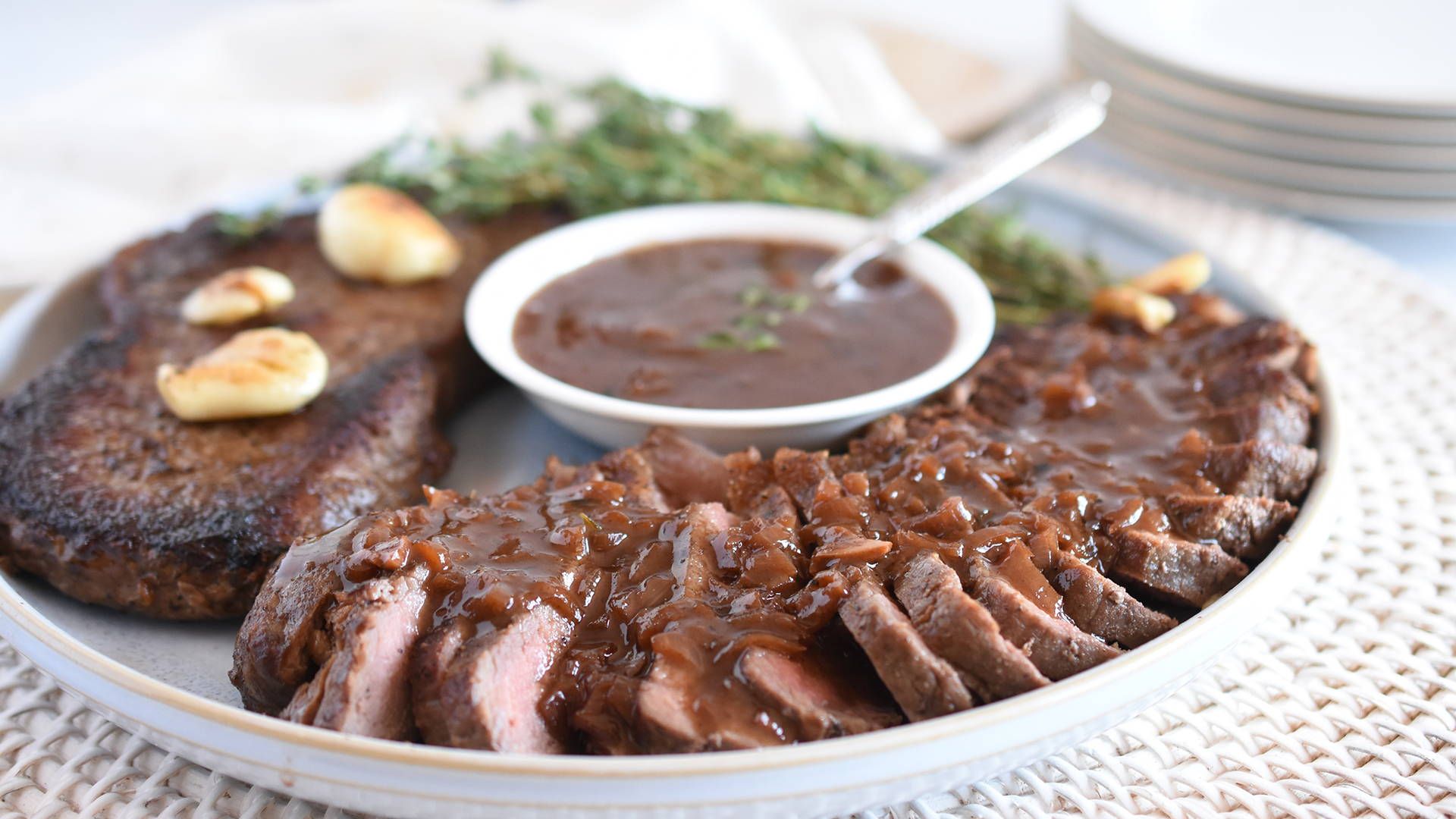 2 – 12 oz. NY Strip Steaks

Salt and pepper

2 Tbsp. avocado oil or other high heat oil

6 Tbsp. unsalted butter

2 med. shallots, minced

3 cloves garlic, smashed

½ tsp. salt
8 sprigs of fresh thyme

1 ½ Tbsp. balsamic vinegar

1 C. beef broth

¾ C. red wine

½ tsp. black pepper

2 tsp. all-purpose flour (optional)

2 tsp. butter, softened (optional)
---
DIRECTIONS
Bring steaks to room temperature and pat dry with paper towel.

Heat a heavy bottomed skillet on high heat for 2-3 minutes.

Add the oil and heat an additional minute.

Add the steaks and sear 2 minutes, flip and sear the other side.

Reduce heat to med/med-high and continue to cook and flip to desired temperature. Turn heat down if they are browning too quickly.

Set steaks aside and tent with foil.

In the same skillet on medium heat, melt 3 Tbsp. butter, add the shallots and sauté for 30 seconds.

Add the garlic, thyme sprigs, and balsamic vinegar.

Cook another minute then add the broth, wine and pepper.

Reduce the mixture by half (about 5-7 minutes), whisking occasionally.

Remove the smashed garlic and thyme sprigs.

Add the remaining butter and season with salt and pepper as desired.

Whisk the mixture until the butter is melted.

If you want the sauce to be thicker, in a small bowl, mix the flour and softened butter until well blended.

Add to the sauce and cook, whisking, for 30 seconds.

Remove from heat and spoon over sliced steaks.
Tips:
• Sauce can be made a couple of days in advance and reheated.
• The sauce can be served as is, pureed, or you can pour through a mesh strainer to remove the solids for a smoother sauce.