Yield: 4-8 tacos | Prep Time: 45 minutes | Cook Time: 30 minutes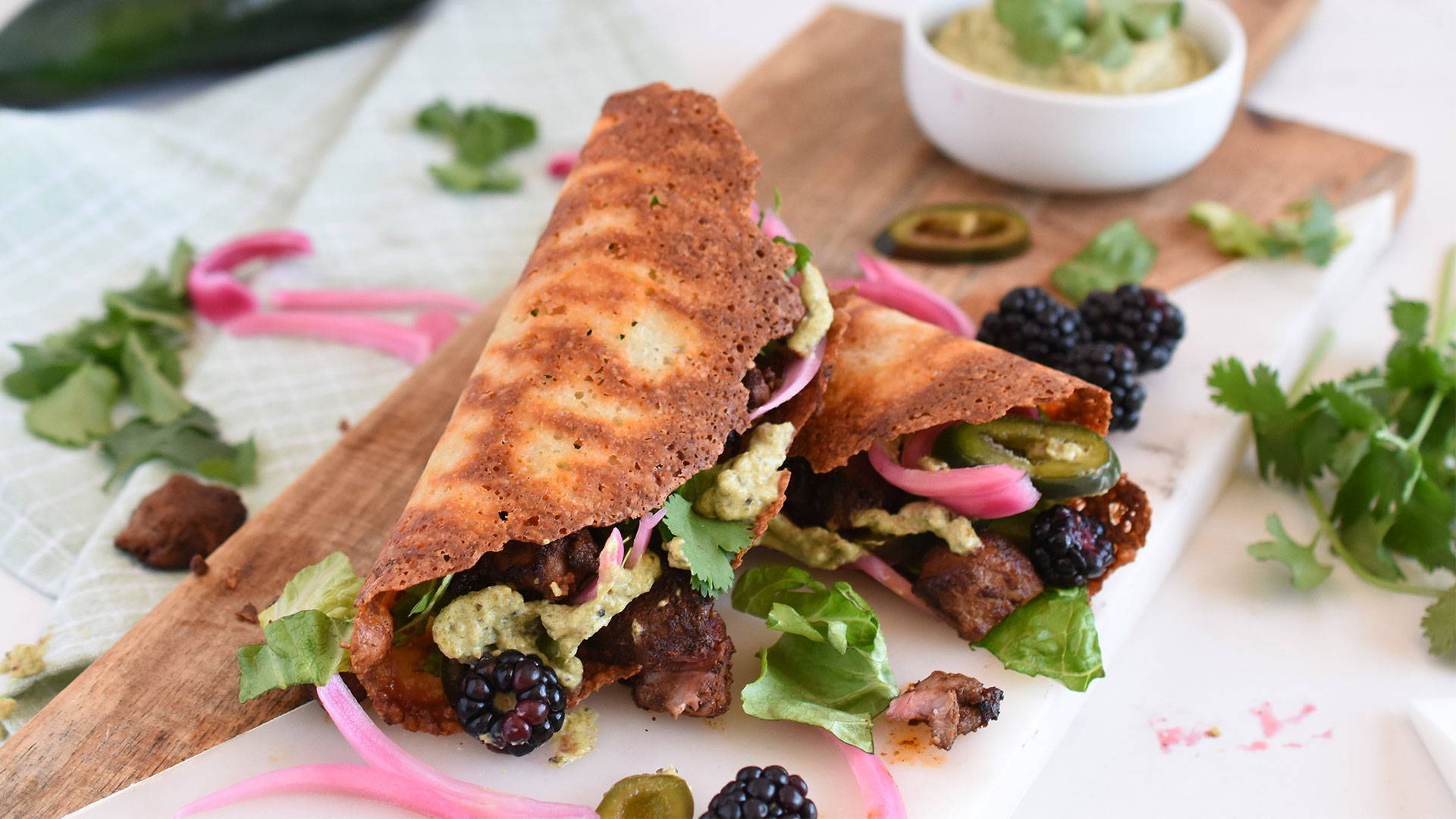 CREMA:
1 ¼ lbs. (about 7-8 med.) poblano peppers

3 Tbsp. avocado oil

1 tsp. cumin

½ tsp. garlic powder

½ tsp. salt

½ tsp. sugar

¼ tsp. pepper

¾ C. sour cream

3 Tbsp. fresh lime juice
DRY RUB:
1 Tbsp. chipotle powder

1 Tbsp. chili powder

1 tsp. garlic powder

1 tsp. onion powder

1 ¼ tsp. cumin

½ tsp. brown sugar

¾ tsp. salt

½ tsp. dried oregano

½ tsp. smoked paprika

¾ tsp. coriander


TACOS:
1 lb. filet tips, thawed and cut into bite sized pieces

2-4 Tbsp. avocado oil

1 red onion, sliced into strips

Reserved poblano ends, cut into rings

¾ C. white wine vinegar

¼ C. water

1 tsp. salt

2 Tbsp. sugar

1 – 16 oz. package, Mexican blend shredded cheese

2-4 C. shredded lettuce

1-pint fresh blackberries

1 bunch cilantro, rough chopped or picked
---
DIRECTIONS:
To prepare crema -
Cut the bottom 1 ½" off each pepper; reserve those pieces.

Cut off the tops and remove the stems; reserve the tops.

Slice open each pepper and remove the seeds and membranes.

Rub the peppers with avocado oil and place on a foil lined baking sheet.

Move baking rack in oven to the top 1/3 and preheat broiler.

Broil peppers, skin side up until they are well charred.

Place peppers in a plastic storage bag or container and seal. Allow them to sit for at least 5 minutes.

Take the peppers out and remove the charred skins (as much as you can but some will remain).

Place the peppers in a food processor and add the cumin, garlic powder, salt, sugar, pepper, sour cream, and 1 Tbsp. lime juice.

Puree until smooth, adding the remaining lime juice if needed.

Store in the refrigerator until ready to use and up to one week.
To prepare dry rub -
Combine all the ingredients in a bowl and whisk to blend.
To prepare tacos -
Pat filet tips dry with paper towel then coat with dry rub, pressing the rub into the beef; store in the refrigerator. Remove from the refrigerator 30 minutes before cooking.

Place red onion, poblano ends and tops in a glass jar or bowl; set aside.

In a small saucepan, combine the vinegar, water, salt and sugar; bring to a boil.

Turn down to a simmer and cook for 5 minutes, stirring frequently, to dissolve the sugar.

Remove from heat and pour over onion and poblano and cover; allow to sit for 30 minutes. Can be stored in the refrigerator for up to two weeks.

Preheat oven to 400°F.

Line a large baking sheet with parchment paper.

Place 1/3 C. piles of shredded cheese on the parchment paper and spread them out to a 6" circle.

Bake for 7-10 minutes or until well browned and crisp.

Pull from the oven and form into taco shells (try propping them up, still on the parchment, between two cake pans or use a taco holder). Allow to cool.

On the stovetop, heat a large skillet for about 3 minutes on med-high heat. Add the oil and heat for 30 seconds.

Add the tips to the skillet and cook to desired doneness; remove from pan and allow to rest.

Assemble the tacos by filling a cheese shell with ½ C. shredded lettuce, beef tips, pickled onion and poblanos, blackberries, and cilantro.

Drizzle with poblano crema.

Tips for easy weeknight prep:
Make poblano crema, dry rub, and pickled onion/peppers in advance so only the shells and beef need cooked for serving.