SIMPLE STEPS FOR BEGINNERS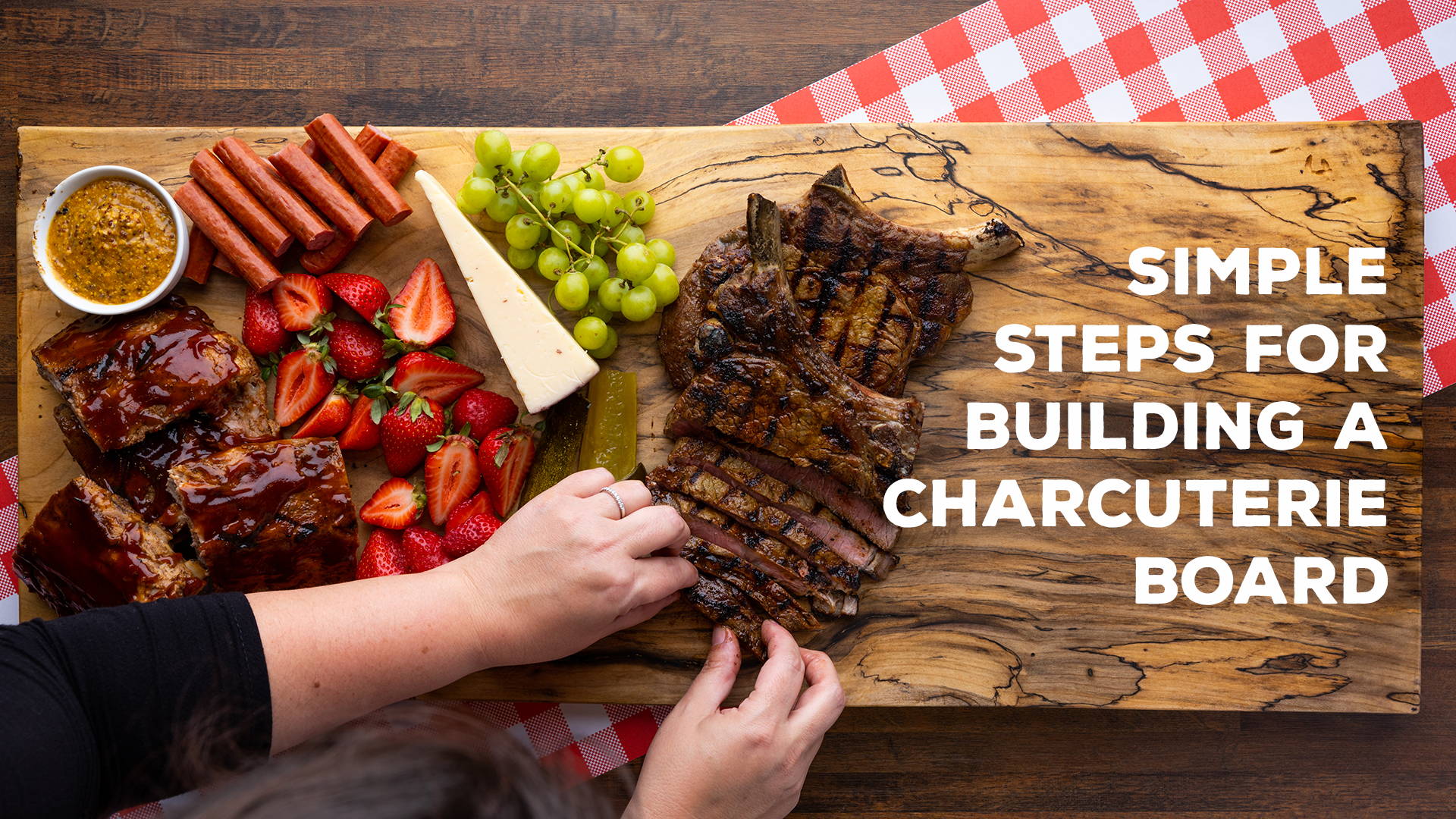 Charcuterie boards are a super simple way to add color, texture and variety to the food table at your next event or gathering. Just follow these simple steps to create 'oohs' and 'aahs' from all guests!
There are SIX key elements that all successful charcuterie boards need:
The platter or surface your charcuterie offering will be displayed on

Anything will work, even a simple cutting board; just remember the bigger the board, the more it takes to fill it.

Small dishes or ramekins

Utilizing small dishes or ramekins on your board to hold dressings, toppings, sauces, etc. will help keep your board clean and organized, save space for your main features, as well as add color and whimsy to the board. They do not need to match!

Cheeses

As a rule of thumb, include two to four cheeses in the basic categories of: hard cheese, soft cheese, and blue cheese. Contrasting flavors and textures give diversity to your board.

Meats (This is our favorite for obvious reasons!) 

Traditional charcuterie boards will use a lot of thinly sliced cured meats; however, we're fans of including whatever meats make the most sense for your gathering. In the boards we've shared with you, we use a combo of cured meats and grilled meats. We just recommend allowing any cooked meats to rest well before adding to your board.

Crackers/Breads

Every boards needs some starch, so don't be shy about adding crackers, crusty breads, breadsticks, etc. Think about what would work best with the theme of your board and then add at least two to three options.

Produce

Fruits and veggies add color and freshness. They also provide excellent contrast to rich, salty meats and cheeses. Consider fruits and veggies that can be eaten whole or cut into slices.
Now that we know what needs to be included, what's the best way to go about building it?
Start by adding structure with little dishes, then place your ingredients on the board starting with the largest elements like the cheeses and meats, followed by smaller items like crackers and fresh produce.

Fill in any holes with additional portions of the smaller items.

It's okay for things to touch! Your guests will be building small plates out of the items and ideally the items on the board are meant to be eaten together.